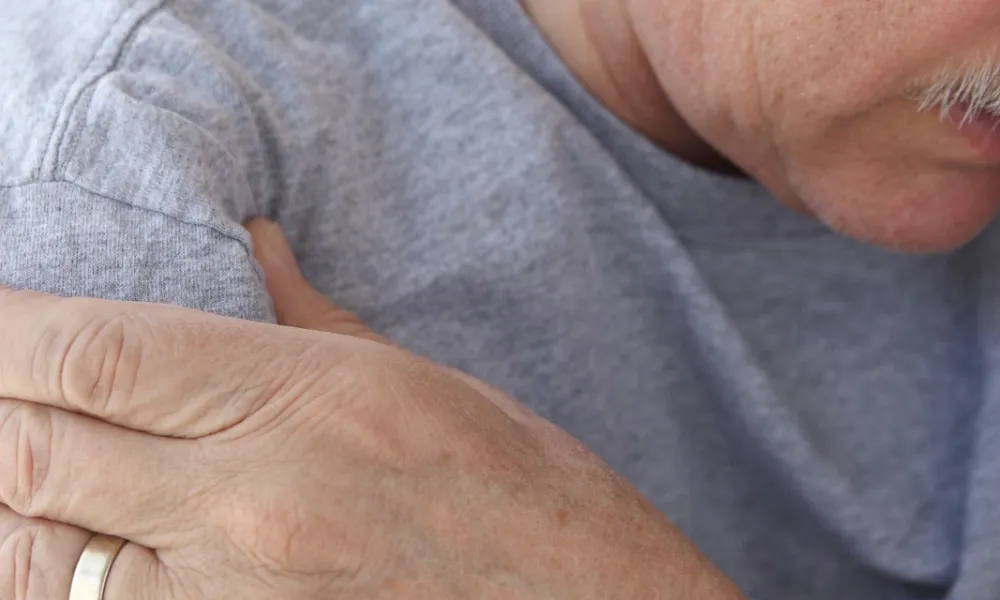 Shoulder Arthritis
It is not commonly known that arthritis can affect the shoulder. Although the shoulder is less likely to be involved with arthritis than the hip or knee, shoulder arthritis is actually quite common. In severe cases, shoulder arthritis can be disabling and may prevent otherwise healthy individuals from sleeping, carrying out activities of daily living and from enjoying sports, gardening and other physical activities.
While in the past there were no effective surgical procedures for shoulder arthritis, advances over the last few decades have made new techniques in surgical reconstruction available that can reliably restore comfort and function to the shoulder affected with arthritis.
What is Shoulder Arthritis?
Shoulder arthritis is the loss of the smooth cartilage that normally covers the surfaces of the ball (humeral head) and socket (glenoid). This results in painful "bone on bone" rubbing between the two joint surfaces.
What are the Symptoms of Shoulder Arthritis?
The most common symptoms of shoulder arthritis are pain, stiffness, difficulty sleeping and the inability to do activities of daily living, work and sports. The pain of shoulder arthritis is often felt in the back of the shoulder and is aggravated by activity. The pain progressively worsens over time and may intensify with changes in the weather.
Limited shoulder motion is a common feature of shoulder arthritis. In more advanced cases, patients may loose the ability to comb their hair or reach overhead. Most patients complain of a painful grinding or snapping sound (crepitus) as the shoulder is moved. As the disease progresses, any movement of the shoulder causes pain. Night pain is common and sleeping may be difficult.
What Causes Shoulder Arthritis?
Shoulder Arthritis may result from "wear and tear" osteoarthritis, rheumatoid arthritis, or post-traumatic arthritis.
Osteoarthritis
Osteoarthritis, or "wear-and-tear" arthritis, is a degenerative condition that destroys the smooth outer covering (articular cartilage) of bone. It usually affects people over 50 years of age.

Rheumatoid Arthritis
Rheumatoid arthritis is a systemic inflammatory condition of the joint lining leading to joint surfaces damage. It can affect people of any age and usually affects multiple joints on both sides of the body.

Posttraumatic Arthritis
Posttraumatic arthritis is a type of osteoarthritis that develops after an injury to the joint surface, such as a fracture or dislocation of the shoulder. Arthritis can also develop after a rotator cuff tear.
How is the Diagnosis of Shoulder Arthritis Made?
A physical examination and proper X-rays are needed to diagnose arthritis of the shoulder.
During the physical examination, your physician will look for:
Pain when pressure is placed on the joint
Limitation of shoulder motion
Crepitus (a grating sensation inside the joint) with movement
X-rays of an arthritic shoulder will typically show narrowing of the joint space, deformity of the bone, and the formation of bone spurs (osteophytes).
How is Shoulder Arthritis Treated?
Nonsurgical Treatment
As with other arthritic conditions, initial treatment of milder cases of shoulder arthritis of the shoulder is non-surgical and typically includes:
Rest and activity modification to avoid provoking pain
Tylenol or non-steroidal anti-inflammation medications, such as Ibuprofen, to reduce inflammation
Intermittent icing to reduce inflammation and ease pain
Dietary supplements, such as glucosamine and chondroitin sulphate have not been proven to be effective in shoulder arthritis.
Surgical Treatment
If non-surgical treatment does not reduce pain, there are several surgical options available to you and your surgeon.
Arthritis of the glenohumeral joint (the "ball and socket") can be treated by replacing both abnormal surfaces of the shoulder joint; a replacement of the ball of upper arm bone (Humeral Hemiarthroplasty) in combination with insertion of a plastic socket (glenoid). This is commonly referred to as a Total Shoulder Arthroplasty.
Another treatment method for shoulder arthritis is a replacement of the abnormal head of the upper arm bone with or without reshaping the shoulder socket (glenoid). Replacement of the humeral head is commonly referred to as a Hemiarthroplasty.
Conventional shoulder joint replacement implants are ineffective when the shoulder is weak and unstable because of massive defects in the rotator cuff tendons. In these situations, the use of special humeral head prosthesis known as a CTA (Cuff Tear Arthropathy) prosthesis may be more appropriate.
Under circumstances of combined severe joint surface deformities and soft tissue defects, substantial shoulder comfort and function can be restored with a reversed ball and socket (Delta) total shoulder replacement arthroplasty.
Determining the most suitable and reliable treatment for an individual with shoulder arthritis requires substantial experience. Many fewer surgeries are performed for shoulder arthritis than hip or knee arthritis. As a result, there are many fewer experienced shoulder surgeons than knee and hip surgeons. Patients considering shoulder Arthroplasty reconstruction should consult with an individual who performs these surgeries frequently. A list of fellowship trained shoulder surgeons can be obtained by consulting the website of the American Shoulder and Elbow Surgeons.