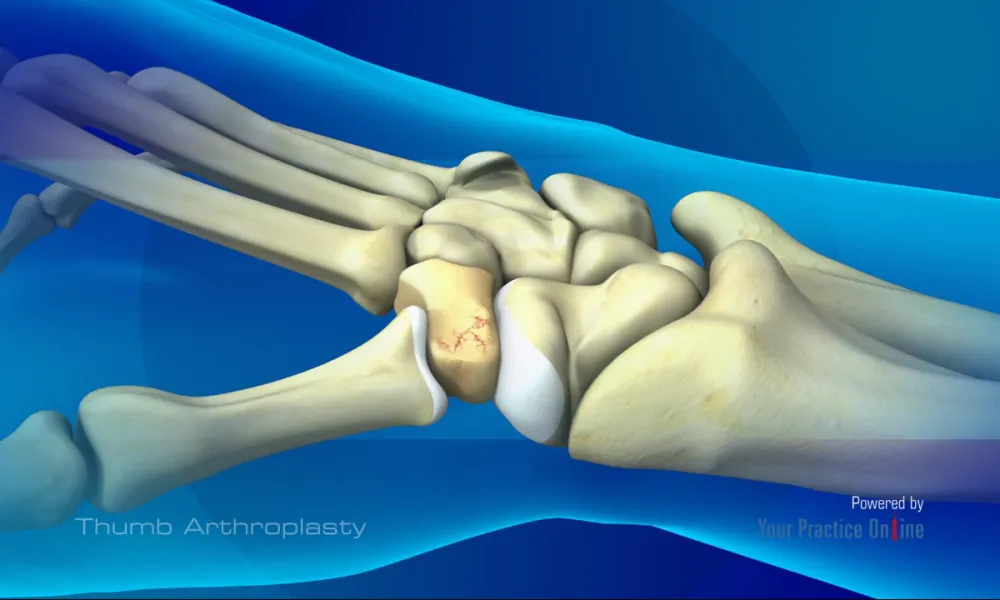 Thumb Arthroplasty
You are scheduled for a Thumb Arthroplasty. The procedure is performed in patients with advanced basilar thumb arthritis. It is intended to alleviate pain in the thumb and improve function. Pinching or grasping causes severe pain in the thumb. The joint is removed and a tendon is used to reconstruct the joint.The procedure is performed under general anesthesia with an axillary block. The anesthesiologist will discuss the block with you. It is accomplished by injected medicine in your axilla (armpit) while you are still awake. This allows you to wake up from surgery in no pain. The block will last for several hours after surgery. The surgery is performed by making an incision along the border of the thumb. The joint is removed (an entire bone is taken out) and replaced with a tendon graft. The tendon is obtained by making one or two incisions along your forearm. This is a tendon that is redundant and you will not notice its absence. One or two pins are used to stabilize the thumb. These pins will be removed in 4 weeks in the office.
Before surgery, you will need to obtain clearance from your regular doctor if you have medical problems, you may be required to obtain some basic tests for screening before the surgery. Basic blood tests, a chest x-ray, and an EKG may be required depending on your health.
Most people are quite satisfied with the relief provided by the procedure. In most cases, once you have recovered the pain will be gone and you will have relatively normal motion. Your pinch strength will not necessarily improve. There are always risks with any surgery. The most common complications after a thumb arthroplasty include infection, temporary numbness along the top of the thumb, and stiffness.
After surgery, you will be discharged home in a splint. This should not be removed. You will need to cover with a plastic bag when showering. You should keep the hand elevated as much as possible the first few weeks. You can and should move your fingers. You will see your surgeon or PA 10-14 days after surgery in the office where the stitches will be removed. You will then be placed into a thumb spica cast and will come back for cast and pin removal 3 weeks later. Once the pin is removed you will have a custom splint made for the thumb. You will also start hand therapy to work on regaining motion. Strengthening usually starts about 2 months after surgery and you will be done with therapy and splint about 3 months after surgery.
Your return to work depends on your profession and the availability of light duty. Generally, light office work, typing, writing, and using a computer are acceptable even a few days after surgery. No heavy lifting or forceful gripping with the operative hand is permitted until at least 3 months after surgery.
Call your surgeon if you have an elevated temperature greater than 101.5 degrees, redness, or drainage from the incision site as this may be indicative of a wound infection. Please contact our cast room if you have any problems or concerns with your cast.
If you are running low on pain medication after surgery and anticipate the need for more, please call your doctor's office during regular office hours (8am to 5pm Monday - Friday).
For more information about trigger fingers and its treatment, click here.